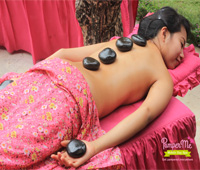 Get pampered wherever you are
Feeling stressed or tired? Want to re charge your energy, rejuvenate body and mind, but have no time to fit 'pamper me time 'into your daily hectic schedule.
Relax Pamper Me Mobile Day Spa are here to give "pamper me time" We are the first exclusive mobile spa that has opened in Indonesia, Bali. It is a spa that delivers treatments to clients in the comfort of your home, private party, corporate function or wherever you are at your most convenient location and at your most preferred time.
Pamper Me Mobile Day Spa offers services to adults, teens, children and baby. A variety of services are offered ranging from massages, body scrubs, manicures, pedicures and so much more. We provide everything needed for these treatments in any location. Equipment is set up in moments, bringing the ultimate spa experience directly to clients wherever they are.
In addition to its unique delivery service, Pamper Me Mobile Day Spa prides itself for its dedication to offering the best in hygiene standards. All our instruments and equipment are either disposable or made from stainless steel and are sanitized prior to each use.
Furthermore, we also pay attention to the products that we use in all treatments. We honor nature's healing and beautifying properties using chemical free, natural spa ingredients and high quality beauty skin care line ensuring best results. Hence, we are proud to inform that our spa products are safe, paraben free and contain no mineral.
Our therapies we referred as miss pamper me are carefully selected and experienced. As miss pamper they are caring, friendly, and polite lady who has been undergone 750 hours in house training. They are dedicated to pamper our client and give the ultimate "pamper me time" spa experience.
Now be ready to be pampered wherever you are!!